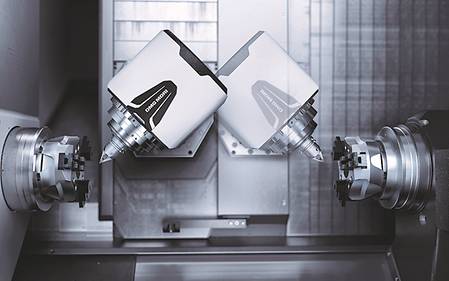 The B-axis factor - added value compared to any turret lathe
Shortest set-up times thanks to automatic tool change with 30 or optionally 60 tools
Eliminates the need for angular tools: B-axis with + -120 ° swivel angle and 0.001 ° resolution
Minimized downtime due to multitools and sister tools
6-sided complete machining by main- and optional counter spindle
Highest positioning accuracy and performance thanks to integrated spindle drives up to 5,000 rpm and 254.5 ft./lbs. as well as integrated C-axis (0.001 °)
No driven tool holder necessary, thanks to the compactMASTER turn-mill spindle with 12,000 rpm and 66.4 ft./lbs.
Optimally matched work space for workpieces up to Ø15.7 in. x 43.3 in.