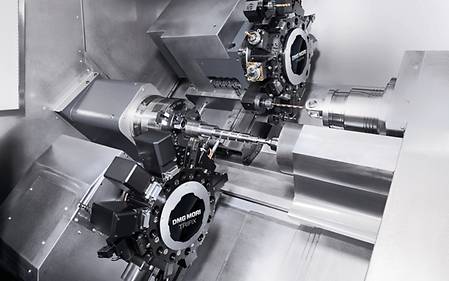 4-axis production turning with 2 turrets and counter spindle as standard
Two 12-fold VDI 40 star turrets with 4,000 rpm, 15.2 hp. and 20.7 ft./lbs.
Optional Direct Drive turret with 10,000 rpm and TRIFIX precision quick-change system for highest accuracy
Main and counter spindle with 5,000 rpm, 64.4 hp. and 265.5 ft./lbs..
Patented TWIN concept for parallel processing with 2 tool carriers
Optimal work space utilization by working space concept with two turrets and cross stroke* of the counter-spindle tailstock combination *
Y-axis on both turrets (up ± 2.4 in., down * ± 1.6 in.) for the complete machining of bars, shafts and chuck parts
Rotating diameter up to 13.4 in. at 47.2 in. turning length