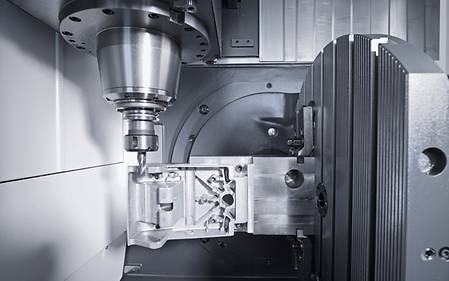 Patented swivel rotary table with perfect accessibility - your guaranteed benefit for complex manufacturing
Swiveling range of B-axis from -10° to 95°
Complete machining of complexed parts thanks to 5-axis technology
Huge table with ø 31.5 x 24.4 in. for machining of parts up to 771.6 lbs.
Increase your efficiency and productivity with the CMX U series
Rapid traverse 1,181 ipm. (in/min) in all linear axes to reduce non-cutting time
30-pocket tool magazine in standard version with quick tool change within 2.7 s 
Highly-dynamic in-Line spindle of 12,000 rpm with power 17.4 hp. (40% DC) and 61.2 ft./lbs. (40% DC)
Stability and reliability without any compromise!
FEM-optimized design
Thermal compensation ensures stable and highest quality production process
Roller guideways for highest rigidity and stable machining process