03/07/2022
MAYER PRÄZISION GMBH
Automation as a Quality Factor
Mayer Präzision GmbH has been regarded as a reliable manufacturing partner for jigs and fixtures for assembly work in the automotive industry for over 30 years. It is a subsidiary of ASD Maschinenbau GmbH since 2016 with a staff of 30 specialists who work at the company headquarters on design and machining. Mayer Präzision has been relying on CNC technology from DMG MORI for its production for several years, as its latest acquisitions show. For the manufacturing service provider, two CMX 600 Vs, one with robotic automation and a DMU 50 3rd Generation with PH CELL are the entry into automated and thus more productive manufacturing.
Complex jigs and fixtures within just a few weeks
"As a service provider, we get involved in new projects for jigs and fixtures at a very early stage," Christoph Glier, managing director of Mayer Präzision, explains the day-to-day business. As soon as an automobile manufacturer produces a new model or even just a facelift to existing models, they need the corresponding jigs and fixtures for the assembly process. The experienced team at Mayer Präzision provides support with the required expertise and manufactures the corresponding components. "We can deliver in just a few weeks, depending on the complexity of the jigs and fixtures."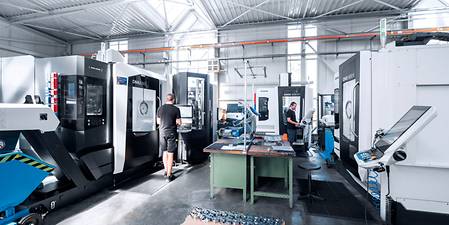 Training and reliable manufacturing processes as a success factor
Training and reliable manufacturing processes as a success factor The fact that Mayer Präzision completes orders in such a solution-oriented and efficient manner is due, on one hand, to ist experienced employees and well-trained junior staff. "We try to employ two apprentices per year to cover our need for specialist staff," says Christoph Glier. On the other hand, the modern machines contribute to productivity – and to the quality of the jigs and fixtures. Ferdinand Urlbauer, plant manager at Mayer Präzision, adds: "Modern and flexible machine tools allow us to produce our wide range of parts and to always guarantee the often high precision requirements." DMG MORI has made a decisive contribution to this with stable machine tools and automation solutions that ensure reliable processing.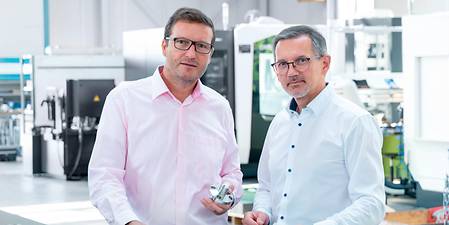 DMU 50 including PH Cell with 40 Pallets in a footprint less than 26 m2
Mayer Präzision installed one such automation solution at the start of 2021 in the form of a DMU 50 3rd Generation and a PH Cell. "The combination unites machining flexibility and efficiency in one very compact footprint," says Christoph Glier. This not only allows them to produce a very wide spectrum of components but also to fully utilize the capacity of the machine. The PH Cell has a modular design: the number of pallet positions for the maximum of two rack modules depends on the pallet size. 320 × 320 mm, 400 × 400 mm and 500 × 500 mm being available. Mayer Präzision decided on smaller pallets and thus has a total of 40 storage positions. "The perfect capacity for our medium-sized batch runs," adds Ferdinand Urlbauer. The 5-axis-machining center is loaded from the side, which offers optimal accessibility to both the machine and the automated setup station. The PH Cell can be controlled via a user-friendly touch panel.
40 pallets for unmanned night shifts and increased quality
Mayer Präzision works two day shifts and uses the DMU 50 3rd Generation with PH Cell for unmanned night shifts and during the weekend. "We can thus benefit from the option of preparing orders requiring a long running time during the day and then manufacturing them automatically," says Ferdinand Urlbauer. Christoph Glier sees automation in terms of quality: "Automated manufacturing provides our well-trained staff with the freedom to concentrate on qualitative tasks, such as NC programming or quality assurance."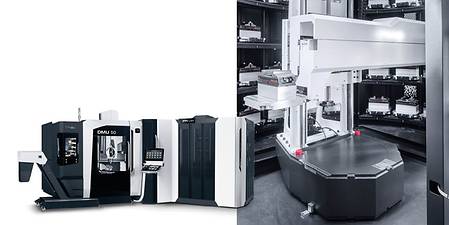 TULIP – digitization for process optimization
The modernization of its production processes, with which Mayer Präzision has been ensuring their competitiveness for several years, will also require future investments in modern manufacturing solutions. Ferdinand Urlbauer is aware of this: "This also means we need to always be on the lookout for new technology – whether it was 5-axis machining in the past or additive manufacturing in the future." This also includes preparing personnel for future challenges. Christoph Glier considers the digitization of processes to be an important development. They have already looked into the possibilities offered by the self-created TULIP apps: "We will be able to optimize our production flow in a sustainable way using apps like this and other digitization products."
MAYER PRÄZISION
FACTS
Founded in 1983
30 skilled workers at its headquarters in Hengersberg
Manufacturing of jigs and fixtures for assembly work in automotive engineering
Mayer Präzision GmbH
Donaustraße 24
D-94491 Hengersberg, Germany
www.mayer-praezision.de