Pfronten – Precision as a passion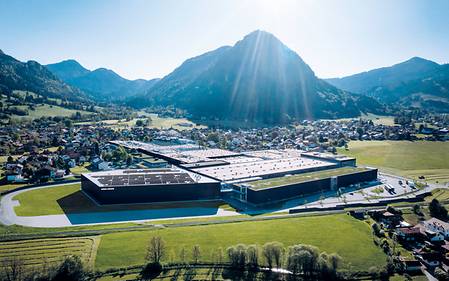 Allgäu is one of the most popular vacation destinations in Germany. Close to Neuschwanstein Castle, Pfronten is only one of many towns in the area to offer cozy hostels as overnight accommodation. But it is extremely difficult to book a room throughout the entire region during the DMG MORI Open House at the beginning of the year. The success story of the worldwide leading machine tool manufacturer began in 1920 with the merger of five precision engineers. The quintet called its new, aspiring company Maho, which began to produce tool machines for their own use in 1950. They quickly came to the attention of larger companies, who ordered specially customized machines from Maho. In 1970, they therefore began to concentrate solely on this branch of business, acquired Graziano in Italy, went public, merged with Deckel and ultimately became Gildemeister in 1994 – today they are DMG MORI.
With around 1,500 employees and a total area of 149,000 m², Pfronten is one of the most important development and largest production plants of DMG MORI in Europe. As a milling expert, the factory alone produces 50 different types of machines from the versatile monoBLOCK series up to the XXL machines. Pfronten offers the capacity for around 1,500 machines to leave the factory every year for global distribution. The company DMG MORI Ultrasonic Lasertec GmbH is also located in Pfronten, and is responsible for advanced technologies in the group. The subsidiary company develops and builds its LASERTEC machines for high-precision applications in the field of laser texturing and drilling in Pfronten. DMG MORI Ultrasonic Lasertec GmbH sets the standard in additive manufacturing of metallic components with the LASERTEC 3D series.