02/07/2022
SKF USA INC.
Automation & Technology Integration at its Best
The history of SKF begins in 1907 in Gothenburg, Sweden. The Swedish engineer Sven Gustaf Wingqvist, one of the founders, had previously invented the self-aligning ball bearing.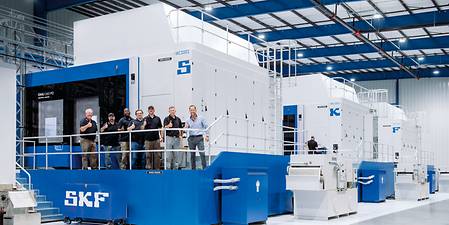 The company quickly established itself with an extensive range of products and services in the fields of rolling bearings, seals, lubrication and mechatronics. Today, SKF is represented worldwide and supports customers from almost all industries. Whether aerospace, medical, semiconductor, automotive or the energy sector – the experts always realize optimal and individual applications. Regular investment in innovative manufacturing technology contribute to long-term competitiveness in production – including at the US site in Sumter. There, complete production of thin-section bearings was implemented on three automated DMU 340 FD machines. DMG MORI has integrated grinding and gear milling by means of gearSKIVING as well as autonomous and process-reliable tool handling by TH-AGV.
Performance and precision with machines from DMG MORI
"Our products enable precise, low friction operation of rotating equipment and machine elements." according to Marcus Jakob, Director of Operations at SKF in Sumter. "Focus on reduced energy consumption for all our customers puts exciting challenges ahead of us". That's why SKF continuously invests in further development of its rolling bearings, slewing rings and seals, he said. "Customer demands are increasing, while tighter tolerances, reduced cost and higher performance are on the daily wish list, which means we have to adapt our production accordingly".
To keep up with this development, SKF is constantly putting manufacturing to the test, according to Mr. Jakob. "On one hand, we need high-precision multi-tasking machining centers, and on the other – to remain ahead of our competition – we depend on very efficient, solid and well-engineered manufacturing processes." With CNC machine tools from DMG MORI, SKF has had the best experience in terms of performance and precision for many years.
Thus, the machine tool manufacturer was also on the short list in Sumter when machining centers were to be purchased for the production of thin-section bearings up to 3,000 mm in size. "The decisive factor for the three DMU 340 FDs was the machining versatility through technology integration," recalls Marcus Jakob. "This is because, in addition to 5-axis milling and turning in one workspace, the XXL machining centers are also equipped with the exclusive DMG MORI technology cycles Grinding and gearSKIVING.
This allows us to perform all machining steps on any of these models for which we previously needed at least two additional machines." In addition, he says "there has been a drastic reduction in throughput times in grinding and gear milling."
gearSKIVING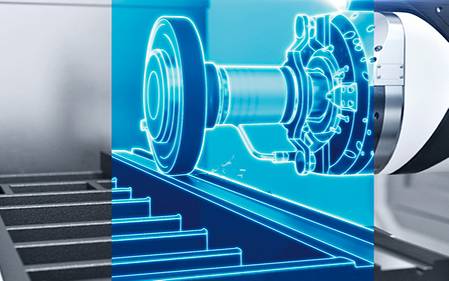 gearSKIVING – UP TO 8 × FASTER THAN GEAR SHAPING
Straight and helical external or internal spur gears and splines
For external and internal gears
Synchronized rotation of tool and workpiece
Module 2 – 10 possible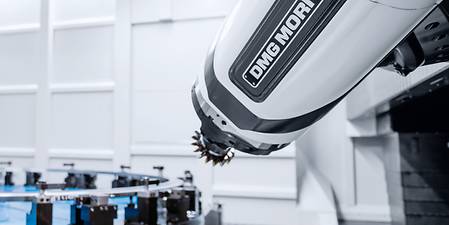 High machine utilization thanks to robot loading
The real benefit for SKF is to maximize machine tool utilization. "Technology integration has also allowed us to eliminate waiting times that were previously unavoidable when changing to different machines," says the Director of Operations. He also states that setup of components has been accelerated with the help of robotic automation from Fastems. The model for this process was a plant that he had previously established in his role as Aerospace Process Development Manager: "There, it involved robot-assisted production of smaller bearing rings for the aerospace sector." In Sumter, he says, "SKF extended this principle to XXL machining on top of adding best in class workholding and automation principles. "While automation ensures continuous manufacturing operation and maximizes the utilization of the machining centers, our team can fully concentrate on preparing new orders and quality control."
TH-AGV: autonomous and process-safe tool handling
Another issue SKF addressed during this project was tool management. With the TH-AGV, DMG MORI also had a product in its product range that supports the automation of this process. "60 tool changes per shift is a huge, time consuming task," explains Marcus Jakob. "The TH-AGV ensures autonomous transport of all tools to the respective machine." The TH-AGV can accommodate tools weighing up to 50 kg with diameters of 400 mm and lengths of 380 mm. The maximum loading weight with 16 tools is 480 kg. The safety of people and machines is ensured by scanners and sensors that permanently monitor the AGV travel path.
Automated Tool Handling
Central tool management with MCC LPS from DMG MORI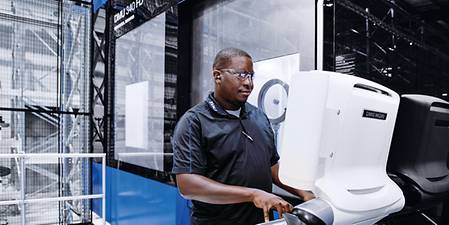 A decisive factor in tool management is process reliability. In central tool management, SKF uses RFID chips to assign tools to the respective orders and machines. "Thanks to end-to-end digitization from tool presetting to machining, we can be sure that no incorrect tools are changed nor incorrect offsets entered into the controller." Here also, the TH-AGV assumes an important role.
Process optimization follows a group-wide role model
Both with technology integration on a machine and the extended automation, SKF is breaking completely new ground. Consequently, this process first has to be introduced to the respective teams," admits Marcus Jakob. However, the optimized processes have quickly convinced everyone involved; reason enough to continue on this path in the future. Specifically, he is thinking about a DMU 210 FD that will work according to the same principle. "These technical solutions in France and Sumter naturally serve as a good role model within the entire SKF Group."
360° TECHNOLOGY COMPETENCE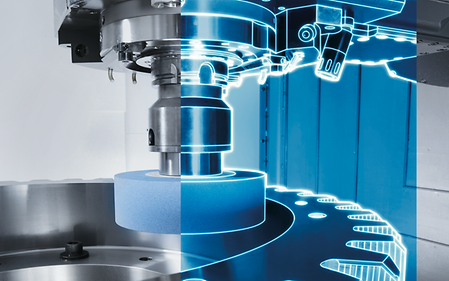 TURNING, MILLING AND GRINDING
Turning, milling and grinding in one clamping
Grinding cycles for internal, external and face grinding as well as dressing cycles
Static or rotating dressing unit for dressing a wide range of tool materials with the aid of structure-borne sound sensor technology
AKZ nozzle unit optionally available for best possible flushing of the grinding gap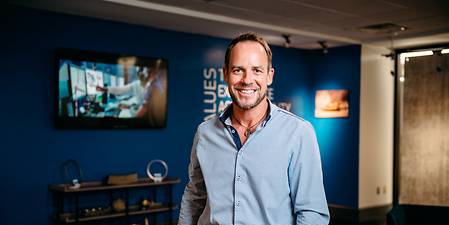 SKF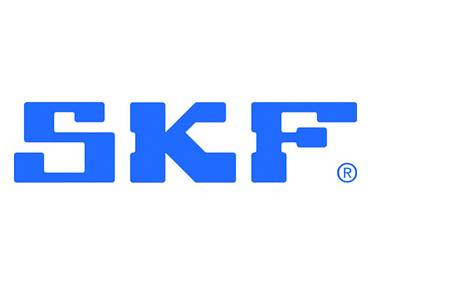 FACTS
Founded in Gothenburg, Sweden, in 1907
Extensive range of products and services in the fields of roller bearings, seals, lubrication and mechatronics
Customers in the aerospace, medical, semiconductor, automotive and energy sectors, among others
SKF USA Inc.
925 Corporate Circle, Sumter
29154 South Carolina, USA
www.skf.com