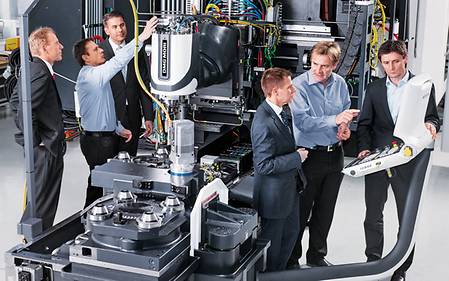 Last year, DMG MORI presented an Industry 4.0 project developed in collaboration with its technology partners. Based on the DMC 80 FD duoBLOCK, DMG MORI presented a machine tool equipped with more than 60 sensors that transmitted digitized information on components from the sensors to the cloud for the purposes of data collection, storage and analysis. The objective was constant status monitoring within the machine. The app-based control and operating system CELOS supports the interaction between human and machine.

This generates benefits for users in two ways. The Condition Analyzer visualizes the process parameters in CELOS, allowing prompt power and status analyses to be carried out on the machine. Additionally, the recorded data are compiled within a cloud architecture and analyzed with special algorithms.

Schaeffler Technologies in Höchstadt an der Aisch is working out how to convert the data into practical machining knowledge. A DMG MORI pilot machine has been in ongoing operation there since late October 2015. Schaeffler considered the opportunities highly diverse. They range from better management of the machining process, e.g. in order to focus more on tool wear and to lower energy or lubricant consumption. Likewise, on the basis of empirically determined 'behaviour patterns', the transferred status data can be used to make qualified predictions about potential damage to the spindle.

The first step towards the future of machining has been taken, and the results are very promising. However, it is still too early for a definitive evaluation. However, Schaeffler expects to produce valid findings before the end of the year. 'The important thing is that we have started and will gradually learn how Industry 4.0 works in practice at a real production facility', says Martin Schreiber, Head of Production Machines at Schaeffler Technologies AG & Co. KG.