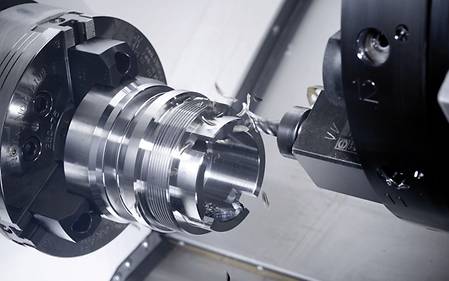 High precision turret for the highest accuracy with 4,000 rpm, 15.2 hp. and 20.7 ft./lbs.
<0.3 μin tolerance in diameter
<0.3 μin thermal stability by active cooling
Highest dynamic due to optional linear drive in the X-axis
Complete machining by optional counter spindle and star turret
Counter spindle with up to 6,000 rpm, 26.8 hp. and 93.7 ft./lbs.
VDI 40 star revolver with 10,000 rpm, 19 hp. and 25.1 ft./lbs.
DirectDrive drive with 10,000 rpm for highest surface accuracy
Machining of workpieces up to Ø 16.1 in. turning diameter and 49.2 in. turning length
Circular diameter up to 27.6 in.
Bar machining of workpieces up to Ø 4.1 in.