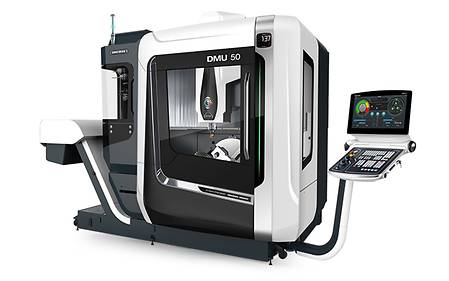 Chicago, IL – DMG MORI, a worldwide leading manufacturer of machine tools, grants machine usage to Pickens County Career and Technology Center located in Liberty, SC for educational support. Pickens CTC will be utilizing DMG MORI's advanced technologies to offer education and training to their students.
The Pickens CTC has been providing students skill training in many areas including manufacturing machine technology and mechatronics. For 42 years, the institution has supported four high schools in Pickens County. Pickens CTC offers courses for aspiring CNC operators and engineers among some of the many career paths offered.
After IN4.OS US LLC, an organization focused on developing Advanced Manufacturing enterprises for strategic sectors, connected the two partners, DMG MORI began providing assistance to Pickens CTC upon the accommodation of a DMU 50 3rd Gen. 5-axis machining center upon DMG MORI's behalf for educational and training use by Pickens CTC. This machine combines more than 20 years of experience, proven technology in the 5-axis portfolio of DMG MORI. This compact DMU 50 3rd Gen. sets new standards in 5-sided to 5-axis simultaneous machining. Travel paths of 650 x 520 x 475 mm and workpiece weights of up to 300 kg mean the new DMU 50 3rd Gen. covers a wide range of components. Its new NC swivel-rotary table with an enlarged swivel range of −35°/+110° boosts this versatility. DMG MORI made the contribution of the DMU 50 3rd Gen. to encourage the continuance of Pickens CTC's educational efforts.