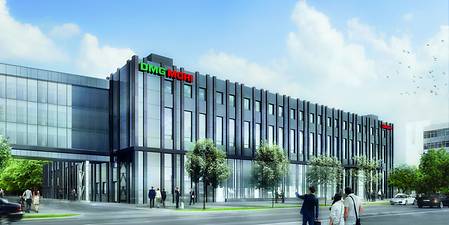 The 17th Metalloobrabotka from 23 to 27 May 2016 in Moscow provides DMG MORI with a more than suitable framework to emphasize its commitment on the Russian market. Local production at the site of Ulyanovsk has already been proving the importance of the region for the worldwide leading machine tool manufacturer since last year. Various models from the ECOLINE range as well as the DMU 50 are produced here with customer proximity. Furthermore, DMG MORI will also be celebrating the opening of the DMG MORI Headquarters Moscow on 23 May 2016.
Grand Opening DMG MORI Headquarters Moscow
From 23 May 2016, DMG MORI will invite customers to experience state-of-the-art CNC technology first hand at its new Headquarters in Moscow. With an area of 1,300 m², the showroom provides enough space for up to 20 machines, which will be showcased live in operation. Amongst others, the total of six machines built in Ulyanovsk – five ECOLINE models and the DMU 50 – will be permanently exhibited here. Visitors can get to know the most recent innovations in the technology center with a special area for CELOS and DMG MORI Software Solutions. A team of application engineers will also design individual manufacturing solutions for customers. Furthermore, the headquarters, spanning a total of 4,100 m², provide ample space for training in state-of-the-art CNC technology for customers as well as DMG MORI staff.