05/02/2023SLM US
Groundbreaking: Domestic manufacturing of LASERTEC 30
DMG MORI redefines the footprint of Additive Manufacturing
By launching the new LASERTEC 30 SLM US with Adaptive Beam Control – developed and manufactured domestically – DMG MORI delivers a class-leading machine to address the rising demands of the U.S. Market. 
The LASERTEC 30 SLM US will start delivery from December 2023, focusing on best-in-class cost per part and complex geometries in an envelope of 11.8 x 11.8 x 11.8 in. Breaking the mold of incumbent technology, the machine features several key advancements – Adaptive Beam Control enabling dynamic changes to Laser Power, Laser Speed, and Laser Beam Profile. Non-contact recoating improves the freedom and independence of powder spreading. Best-in-industry production cost using an optional innovative hybrid toolpath strategy that dynamically changes between laser beam profiles using a 1.2 kW laser. The new LASERTEC 30 SLM US is launching at North America's most influential additive manufacturing event, the RAPID + TCT 2023, in Chicago from May 2 to 4.
With R&D and manufacturing for Additive Manufacturing in the U.S., Japan, and Germany, DMG MORI answers the growing demand for additive technologies in the U.S. market and abroad. This contributes to the supply chain resilience and supports export-regulated applications or industries in local markets. The LASERTEC 30 SLM US will be the first additive manufacturing product to fulfill this requirement.
As an innovation leader in machine tool manufacturing, DMG MORI has expanded its broad portfolio of conventional manufacturing methods with additive technologies since 2013. The LASERTEC DED hybrid and LASERTEC SLM models enable highly productive and reliable manufacture of additive metal components within the holistic DMG MORI ecosystem going from metal powder to high-precision finish machining. In the ADDITIVE INTELLIGENCE consulting unit, DMG MORI also supports beginners and experienced users in fully exploiting the potential of metallic 3D printing. DMG MORI is your partner for the next generation of manufacturing method through continuously developing innovative solutions in additive manufacturing and metal processing.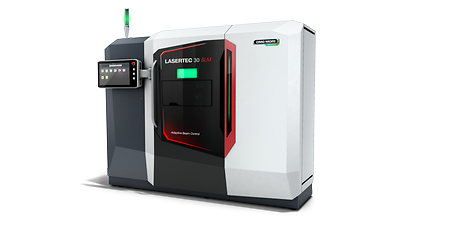 40 years of innovation and regional engagement
The launch of the LASERTEC 30 SLM US comes in the 40th anniversary year of DMG MORI USA. It marks another growth milestone for the company locally in the USA. With 12 locations in the USA featuring technology centers, showrooms, and the production facility DMG MORI Manufacturing USA in Davis, California, 
DMG MORI has built up an outstanding regional presence in the country, supporting local customers like no other. Furthermore, it contributes to developing the skillset in the local workforce, which also serves the local communities.