MANUFACTURER OF THE YEAR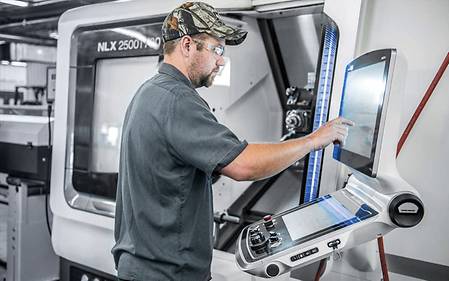 Established in 1992, JR Machine in Shawano, WI is a ISO-certified leading contract manufacturer for OEM and Tier 1-2 manufacturers. They serve a variety of industries, from heavy machinery and equipment, to military and defense, hydraulics, fire suppression, medical technology, vehicle racing, and energy. JR specializes in complex precision- machined parts up to 10″ in diameter and 28″ long, as well as manufacturing services such as prototyping, engineering, CNC welding, and assembly.
Twenty-three DMG MORI machine tools are installed in total, with a majority based on the proven DMG MORI NLX 2500 platform. Most recently they expanded in automation – two multi-turret NZX 2000 Gantry machines were installed in the past year to drive higher production in a compact footprint. JR's success can in part be attributed to their application of Lean Manufacturing principles. A key element of the improvement was the installation and application of DMG MORI Messenger.
Data-Driven Manufacturing
Five years ago JR began utilizing Messenger, DMG MORI's web-based monitoring software that provides live status, alerts, and data collection capabilities. One such capability is the ability to keep track of actual machining time – a data set that is nearly impossible to capture without software.
Based on this capability, JR created a simple metric in order to drive and track improvements. By comparing direct payroll hours to actual machining hours, they could see exactly how efficient the shop was running. Initial results showed room for improvement. Only 0.57 to 0.88 machining hours were taking place for every hour of labor.