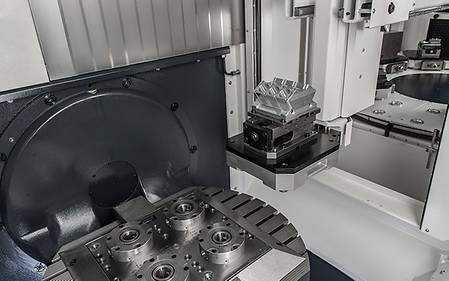 Join us on November 7&8, 2018 for our DMG MORI New England Technology Days event at DMG MORI in Seabrook, NH. Witness live demonstrations on an intelligent combination of the machine tool and the automation solution. DMG MORI provides greater value creation due to end-to-end automation from a single source: heading towarads future-oriented production with standardized and individual automation solutions.
Visit our Solutions Bar to learn about your ROI with financial analysis tools and production projections implementing automation and connectivity.
See live seminars of latest in technology from our Global Technology Partners, Haimer and Sandvik Coromant.

AGENDA

WEDNESDAY, NOVEMBER 7 

| | |
| --- | --- |
| 9.00 AM | REGISTRATION |
| 10.00 AM | AUTOMATION TOUR: (1) NRX 2000 (2) DMU 50 3RD GEN. WITH PH150 (3) NLX 2500 SY WITH GANTRY |
| 12.00 PM | LUNCH |
| 2:00 PM | AUTOMATION TOUR: (1) NRX 2000 (2) DMU 50 3RD GEN. WITH PH150 (3) NLX 2500 SY WITH GANTRY |
| 4:00 PM | HAPPY HOUR |
THURSDAY, NOVEMBER 8

| | |
| --- | --- |
| 9.00 AM | REGISTRATION |
| 10.00 AM | SANDVIK SEMINAR |
| 12.00 PM | LUNCH |
| 2:00 PM | SANDVIK SEMINAR |
| 4:00 PM | HAPPY HOUR |


Recommended Hotels near DMG MORI New Hampshire office:
Holiday Inn Express & Suites Hampton South-Seabrook
Address: 11 Rocks Rd, Seabrook, NH 03874
Phone: (603) 474-1150

Hampton Inn Amesbury
Address: 284 Elm St, Amesbury, MA 01913
Phone: (978) 834-5080

LOCAL CONTACT
Name: Ms. Kathy Connor
Tel.: 603.662.2063
kconnor@dmgmori-usa.com

EVENT LOCATION
DMG MORI New Hampshire
111 Ledge Road
Seabrook, NH 03874